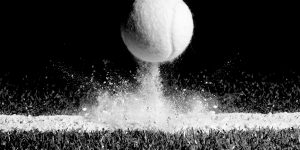 Ball and Bounce
---
Ball and Bounce
ball and racket
Two girls holding two rackets and two tennis balls
strut down one long road towards Ladywell Fields park.
The sun is the plate we eat from, it serves us the feast of spotlight
we crave after a day of toiling.
Air glides into the throat of the racket and doubt unclogs from our lungs.
Today we are no longer two girls trying to split Heather
Watson's name between our teeth,
we are no longer Serena and Venus Williams impersonators.
Today we hold the rackets like we hold our bodies;
without fear of breakage, assured it is wired to swing
against anything thrown at it, at us.
ball and bounce
At Ladywell Fields park skaters bounce from the air onto their skateboard
and applause fills the gap between. We cheer and our teeth are a row
of burning candles willing to watch London spark all night.
An Oyster card peaks out of our pockets like a passport
for a body always ready for flight.
Two young women holding rackets like loudspeakers
ask to join us on the courts, we say yes without hesitation.
Words bounce over the netted barrier between us,
we share the first three letters of our postcode like a password
to unlock a story within us.
We envy the fluorescent yellow of the tennis ball,
we dream of being obvious in our existence.
School kids on a 185 bus notice us as we walk home,
their eyes are scoops of questions, we offer smiles as answers.
We walk with an elegant bounce even a tennis ball can't duplicate.
score
A teenage girl walking past asks what the score is,
and we shout 'LOVE'
which we, now tennis experts, know means zero.
What matters for us is sweat gluing our laughter together
to thicken the harmony.
10 minutes later the same teenage girl walks past
and to seem productive
we shout THE SCORE IS NOW 30 LOVE.
Love never exits this space between us,
we bounce it between each other like a church singer
throwing a note over a piano during a duet,
and our hands forget to become sore,
we say that is our superpower.